Tourism
Crazy About The South East: Tourist Spots In Ebonyi State
We mostly know Ebonyi State as the salt of the nation because of the range of salt it produces but tourists can have a great time visiting notable sites in the state. Below are a few spots tourists can visit in Ebonyi State:
1. Okposi Salt Lake
While not the only salt lake in the state, Okposi Salt Lake in Okposi, Ohaozzara LGA will give you a bird's-eye view on how the Locals process salt. It is edutaining. 
2. Fati Abubakar Amusement Park
This park located near the Abakaliki Golf course on Ezza Road, Abakaliki (the state capital) is great for giving kids a treat. It is also an ideal spot for relaxation for both adults and children.
3. Oferekpe Falls
Situated in Ikwo LGA, this waterfall is a significant site worth visiting. Attached to the waterfall is beachfront; one of the golden sand beaches of the state.
4. Abakaliki Green Lake
Located inside the state Government House which was once the abode of colonial masters in Abakaliki LGA, this lake comes with huts and a view for relaxation. It is a calm place that inspires creativity.
5. Abakaliki Golf Course
Along Ezza road in Abakaliki LGA, this standard and well-kept golf course span one and a half kilometres. It plays host to important personalities almost every weekend. If you enjoy golfing, this place will appeal to you. You might meet a celebrity or politician with similar passions there.
6. Amanchor Cave
This cave in Etiti in Amanchor-Edd, Afikpo South LGA is 4 km long. It has multiple narrow tunnels that extend in different directions. You can access this cave from Abakaliki, Afikpo, Ngusu and Mile 2 along the Akaeze/Ngusu road which is 104km from Enugu.
7. The Golden Sand Beaches
The Unwana, Ozziza and Ndibe sand beaches in Afikpo North LGA are scenic and calm. The spread across the Cross River Basin and make a great spot for relaxation, a boat cruise, swimming, picnic, snorkelling, canoeing, sunbathing and/or sport fishing.
8. Slave Market and Routes
before the long walk to the point of no return comes the slavers market. In Ezza North & south LGA is one legacy of the era of traded human cargo in African history.
9. Festivals
The year-round festivals of the state are colourful, full of intricate dancing and a delight to witness. This is your chance to watch the different dance groups like Nkwa Umuagbogho and dozens of masquerades in action. The places with the best array during annual festivals, such as the New Yam festivals are Afikpo, Unwana and Edda.
10. Rock Formations & Rice husk dunes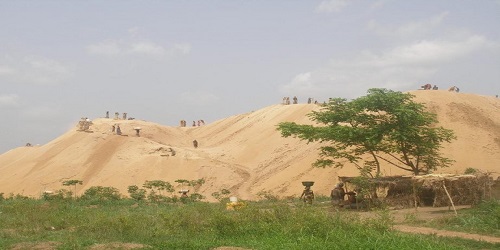 In Afikpo North LGA, spectacular rock formations cover the landscape. E.g. the Mkpuma Ekwa Oku rocks in Izzi LGA resembles naturally shaped eggs. While the rock formations are natural, the Abakaliki Greater Rice Husks are man-made piles of rice husks that form dunes like those in a desert. This mountainous landmark is a testament to the thriving rice mill industry in the state.
There are many other attractions in the state which are also worth visiting like the Uburu Salt Lake, National Gallery of Art, the local markets, Libolo Valley, Ogbodu Conical Mould, Akpha and Mkpurukem caves, etc. Ebonyi State is ideal for eco-tourism.
Featured Image Source: Ou Travel And Tour