Tourism
Crazy About North Central: 3 Things To Do in Benue State
Benue State boasts of a culturally diverse populace from the great cultures of the Tiv, Idoma, Etulo, Abakpa, Igede, Nyifon, Jukun, Akweya and Hausa. Known as the food basket of the nation, this state also has a sub-humid weather and breathtaking sceneries.
This is really a place for tourists. Here are three things you can do in Benue:
1. Explore Nature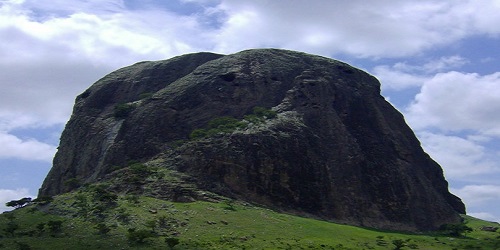 There are so many beautiful natural landscapes for tourists to visit in Benue State. A trip to Benue Hills in Gboko LGA, is perfect for rock climbing, flying kites, having family picnics and taking awesome pictures. Tourists can also check out the Enemabia Warm Spring in Ogbadibo LGA which flows from a cave and is open all year round. They can enjoy the view of the spring or take a dip in its warm waters. Another cool place to visit is Ikoyogen Hills. Known for its lush green vegetation, sprawling hills, a unique waterfall and its cattle ranch, this spot in Kwande LGA was developed for cattle grazing and modelled after Obudu Cattle Ranch in Calabar.
Also in Kwande LGA are the Anwase-Abande Ranges. This picturesque location comes with a natural forest, streams, valleys, dykes and other natural formations that will enrapture visitors. Other spots for adventurous tourists are the Ushongo Hills, Makurdi Beach, Jande Dwer Stream, and Gurgul Falls, amongst others.  
2. Attend festivals
The festivals in Benue State showcase the culture of the people of the state. They always come with singing, dancing, people dressing in their tribal attire, masquerades and sometimes storytelling. There is the Annual Food Festival held in Markurdi the state's capital. It not only showcases the abundant food resource of the state but it's also a great way to raise awareness for issues plaguing society. Another the Kwagh-hir festival which shows the creativity, history, heritage and traditions of the Tiv people through theatre, fashion, dancing and singing.
There's also the Akata festival. This 3-day event has something for everyone visiting the state. It shows off the fishing, fresh farm produce and cultural practices of the Tiv people. It also incorporates fun activities into this festival such as arrow shooting, beauty pageantry, boat racing, fishing and trading merchandise. Other festivals include Igede-Agba (New Yam Festival), Alekwu ancestral festival of the Idoma people amongst others. Attending a festival is the best way to feel the cultural pulse of the people.
3. Visit Landmarks
Alternatively, there's more to do other than scenery and festivals in Benue. With a drive-through, you can sample the cuisine from different tribes in restaurants. Visit monuments like the Royal Trading Company in Markurdi, the tombs of the Dutch missionaries in Kastina Ala, or the man-made Turan trench in Kwande. You can also visit the Dajo Pottery in Makurdi, the privately-owned Mela Game Reserve and the very public Montane Game Reserve to see animals in their habitat. Other attractions include a visit to the Tiv Anger Weavers, David Mark Golf Academy and Country club, Tiv Palace in Gboko, the Zaki Biam Yam Market, and the Rice Mill in Otukpo just to mention a few.
In conclusion, if you ever want a feel of the totality of Nigeria or have a genuine African experience in one trip, we recommend you visit Benue state. 
Featured Image Source: Nigeria Galleria