Tourism
Crazy About the North Central: 6 Tourist Spots in Niger State
Welcome to the Power State, home to the largest hydroelectric power station in Nigeria- the Kainji Dam. The proximity of Niger State to Abuja FCT makes it a tourism hotspot. Here are six locations worth visiting in Niger:
1. Gurara Falls
Gurara Falls is one of the biggest tourist attraction in Nigeria. This waterfall is in Bonu village between Suleja town and Minna, the state capital. The waters are clear during the dry season (December – March). Between April and October, the volume of waters cascading down the falls is a sight to behold.
2. Ladi Kwali Pottery Centre
This citadel of industry and technology was the first home to aesthetically created works of pottery with modern techniques. It used to be a training centre for aspiring potters wanting to learn how to combine traditional methods of pottery making with western styles. With its recent revival by the current administration, this internationally famed art gallery is once again a port of call to all lovers of pottery and artworks. At the Ladi Kwali Pottery Centre, functional art is at its best. This is a great place to get a souvenir after exploring the state.
3. Bina Footprints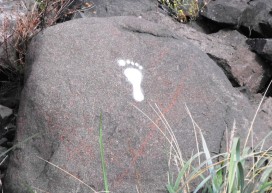 The visible footprint entrenched on a rock at a hilltop in Bina Village, Lapai LGA is a wonder worth seeing. It is also called Dauda Woyaba in the local language of the indigenous people of the region. There is a myth about how the footprints got there, a guide or the locals may tell you when you visit.
4. Zuma Rock
This large monolith is along the long stretch of the Madala rock formation along the Kaduna-Abuja Expressway. The natural wonder reflects a human face as you draw near and is as imposing as it is beautiful. It is both in Niger State and Abuja. Close to the rock is the Zuma Rock Resort, an ideal location for tourists to chill out and have picnics. They can visit the Zuma Rock village at the foot of the rock where the Gwari natives live for some cultural tourism experience.
5. Baro Empire Hills
You can drive to the top of these flat-topped hills in Agaie LGA. The view at the top gives a majestic view of River Niger and Baro's post. In the colonial era, Baro's post hosted Lord Lugard's headquarters and his H.F. Radio station. The view allows you to see the warehouses and first railway line terminus which connected Minna to Baro and was used in offloading goods from River Niger ports and vice versa. It is a great spot for hiking and camping.
6. Kainji Lake National Park
Located in both Niger and Kwara states, this park has three distinct sectors- two game reserves and a man-made lake where fishing or hunting is prohibited. Kainji Lake Park is the largest park in Nigeria and is also easily accessed through Ilorin in Kwara State. It is home to lions, crocodiles, elephants, monkeys, hippopotamus, antelopes, baboons and duikers amongst others. It also has an engaging wildlife museum. If you are interested in exploring nature and the biodiversity of Nigeria, this is your spot.
If you can, make out time to visit Kwanti Nature Reserve, Lord Lugard's Colonial Ruins, Nagwamaste Well, Shiroro Dam Resort, Mayanka Falls, Bida Market, and Soje Hut, all in Niger State. This list could help during your visit.
Featured image source: Visit Nigeria Now