Did You Know?
Did You Know? 5 Correct Delicacies of The Ijaw Ethnic Group
The Ijaw are the largest ethnic group in the Niger Delta region. They are also the fourth largest ethnic group in Nigeria. While Ijaw clusters are found in 6 out of the 36 states of the Federation, the largest Ijaw population is found in Bayelsa State which is the only homogeneous Ijaw state in Nigeria.
The Ijaw have a number of unpopular but rather interesting delicacies. Their ceremonial dishes, regular dishes, and traditional snacks all showcase their culture. Probably because they are a riverine people, the Ijaw love fish and sea foods like prawn, periwinkles, and shrimps. In today's 'Did you Know?' segment, I'll briefly discuss five correct Ijaw delicacies.
Keke Fieye
This is a nutritious meal prepared with unripe plantains. Keke fieye is a pottage delicacy. The process of making this food is actually similar to that of plantain porridge. However, the snail used in making this food is unshelled. It is soaked in warm water for about fifteen minutes to get rid of the sliminess before the bottom of the snail is broken. When the bottom of the snail is broken, it allows the green water of the snail, a vital ingredient in this meal to flow into the food. Keke fieye can be eaten on its own. It can also be eaten with starch.
Polofiyai
This is a traditional Ijaw delicacy. As expected, seafood plays a central role in this delicacy. The ingredients for making this soup include fresh fish, dry fish, periwinkle, plantain, onions, pepper, palm oil, scent leaves, and salt. Polofiyai is best served hot.
Bóle and Fish
This is the most popular food on this list. Bòlé is a meal of roasted plantain, really spicy pepper sauce, and roasted fish. Depending on availability or preference, the plantain for making this food can be ripe, half ripe, or unripe. This food is a lunchtime special; it can be prepared easily from the comfort of one's home. Bòlé vendors are also positioned in almost all the street corners of Rivers and Bayelsa states. They are always ready to satisfy clients who want this delicacy.
Kiri Igina
This is a special type of soup prepared without cooking on fire. To prepare this delicacy, water is first boiled in a cooking pot. Afterwards, the boiled water is poured into a mortar where the cooking takes place. Ground ogbono is then stirred into the mortar alongside smoked fish, ground fresh pepper, onions, and salt. This soup is used to eat eba or fufu.
Opuru-fulou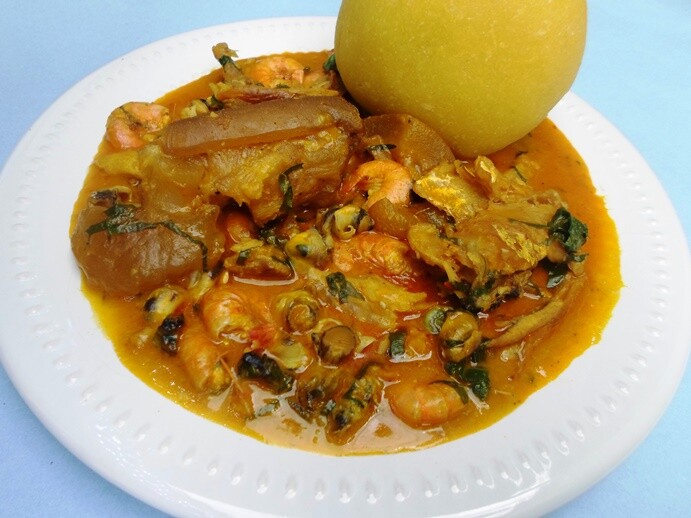 Due to the availability of fresh prawns at the water sides after flooding, the Ijaw cook the opuru fulou soup during flood seasons. In preparing this meal, they use sufficient quantities of fresh prawns (opuru); this is where the soup got its name.
Sources
Benjamin Amadi, Peters Dikhioye, Emmanuel Agomuo, Peter Uchenna Amadi, Grace Denson, "Nutrient Composition of some Selected Traditional Foods of Ijaw People of Bayelsa State," Polish Journal of Natural Sciences. Vol. 33, No. 1, 2018.
Z. Adangor, "The Ijaws (IZONS) Of The Niger Delta Region and Political Agitations in Nigeria: Past and Present," Advances in Social Sciences Research Journal , Vol.5, No.3, 2018, 363.
All Nigerian Foods
Wikipedia
Featured Image Source: Foodanddrink.gtbank