Travel
3 Places to Travel on a Student Budget
We all know that students don't have much money. Students should pay for the study, rent a room, search for the writing services when they don't have time to write it on his or her own. They have lots of other expenses as well. However, each student wants to travel to rest from difficult studies, but he or she doesn't want to spend much on traveling.
There are many cheap places to travel in the world, and some even fully justify their "low price," in the sense that you do not want to spend time there for any money. But in this huge list, there are really amazing, interesting and pleasant places, a journey in which will not only save your money but bring maximum pleasure from the trip as well. We have chosen the best places in the world for a student budget, where you can have a great vacation without ceasing to be amazed at its cheapness.
Hội An, Vietnam
A person who had never been planning an independent trip to Vietnam, most likely, had never heard of Hoi An, but if he or she had heard, he or she would have confused it with Hanoi. Of course, Hanoi is the cheapest city in Asia, but most choose Hoi An, which is much more interesting and pleasant, but not much more expensive.
Arriving in Hoi An, one can note the rather high quality of food and drinks in many restaurants with a menu in English, focused on tourists. Having lunch in restaurants with plastic furniture for residents, one can save a little, but considering the general price level, most tourists prefer visiting places with a more comfortable and cozy atmosphere.
Hoi An, on the whole, looks charming, and students can spend a day or two visiting many inexpensive excursions. There are many fine Vietnamese restaurants in the city, and most of them are very cheap. Here you can try the cheapest beer in the world, "bia hoi." By the way, beer is especially cheap here, and the local La Rue is the cheapest, but Heineken brewed in Asia can also be ordered. Wine costs comparatively a lot, but those who are not attracted to beer will be comforted by moderate prices for cocktails. Vietnamese vodka is sold in bottles at incredibly low prices.
The old part of the city is more like a Chinese fishing village from a revived museum, in which almost every second shop is a cheap sewing workshop.
The delightful and charming Hoi An is still a cheap city, even by Vietnamese standards. The hotels have adopted fairly high standards, and usually, even the rooms of a one-star hotel have air conditioning, cable TV, and sometimes Wi-Fi. If you want to have a luxury vacation, you can find hotels with trimmed lawns and a swimming pool at affordable prices for any budget.
Goa, India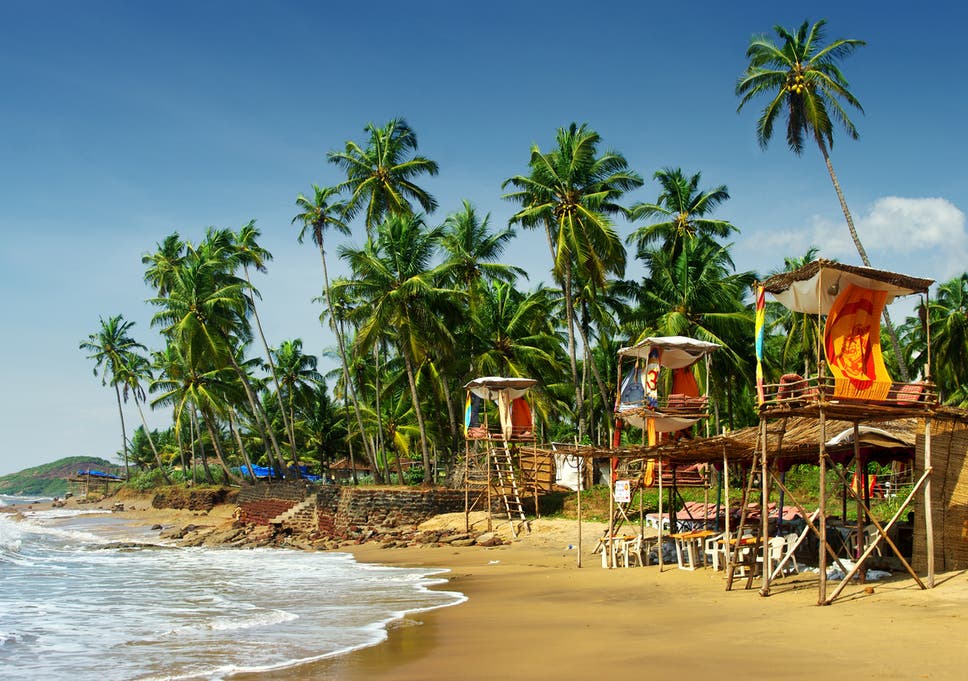 It's true that the prices for holidays in Goa have been growing too fast in recent years, but those who get there will receive a generous reward. In the former Portuguese colony, there is practically no craziness, usually encompassing travelers in India, but there are beauty and peace, plus amazing beaches.
Recently in Calangute and Baga on North Goa, more and more hotels have been opened with a completely non-Goan price list, but with this annoying exception, you can find cheap accommodation almost everywhere in Goa. In a relaxed, but at the same time exciting hippie city, Anjuna there are still many hotels. Different parts of Goa are focused on different types of travelers, so the point here is to decide on the most suitable option for yourself.
The main entertainment here is to sit all day on the beach and visit bars, clubs, and night parties on the beach. Beach restaurants keep food and drink prices at the city level, so dinner on the beach will be inexpensive, especially when compared with Europe.
Goa is not a place, it is a state of mind. It is also the Indian state with several dozen small villages, most of which are located along the coast and attract many tourists from November to March. Compared to prices in other parts of India, Goa is a relatively expensive resort, but compared to other similar places, this is a very attractive choice.
During the peak dates from Christmas to New Year, prices rise, and there are no available rooms in hotels, try to postpone the vacation to another time or get ready to pay more. But still, the hotels in Goa are cheap and of high quality for a coastal resort. In addition, carefully choose the city where you will spend your vacation. Some places are famous for parties, while others are more suitable for families.
Chiang Mai, Thailand
Although Bangkok itself is a budget city and undoubtedly an amazing city, but located in northern Thailand, Chiang Mai is even better. In Bangkok, you will want to stay a few days, but leave time to visit Chiang Mai, where the weather is more stable and many shops with much cheaper souvenirs and clothes than in the kingdom's capital.
Chiang Mai is the second-largest and most popular historical city in Thailand after Bangkok. And the atmosphere prevailing here is very different from what you may have seen in Thailand, even if you ignore the picturesque mountain scenery around. The city is full of excellent food at low prices. Most of the attractions here are either free or very cheap, so travelers can safely spend most of the remaining money on inexpensive souvenirs. Food and drinks are available for any student, the lowest prices can be found in many street cafes and restaurants for residents.
The city is one of the most profitable for traveling, offering a full range of hotels at a low price even by international standards, and the hostels in Chiang Mai, of course, are even cheaper. A room in a quality 3-star Chiang Mai hotel can be rented for about the same money as a bed in a hostel in Northern Europe.
Of course, there are lots of other places to travel on a student's budget, but these are the most interesting, and we hope that you will visit all of them.
---
Featured image source: Independent