Tourism
5 Things To Do in Owerri this Christmas
Owerri is the heart of Igboland and the capital city of Imo State. We know the Igbos are always drawn back home every Christmas season. The mass exodus is greater among those in Owerri because it is the entertainment centre of Eastern Nigeria.
We invite tourists to join the train of eastern travellers this season. That's because there is so much cultural tourism to experience. As with any part of Nigeria, Owerri is heavily endowed with tourism potentials worth exploring this Christmas season.
---
Read more about Travel and Tourism
---
Here are 5 things we recommend you do when in Owerri this Christmas:
1. Visit the zoo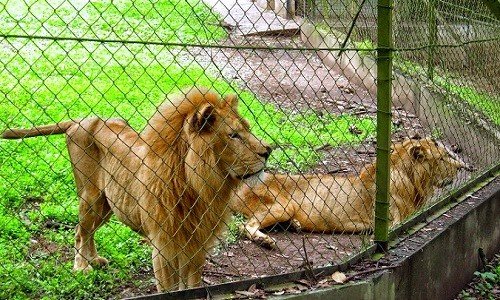 If wildlife is your thing, then you need to include a visit to Nekede Zoo in your itinerary. This will definitely make your Christmas celebration. The animals you can see there include monkeys, lions, pythons, ostrich, etc.
2. Spend time with nature
Owerri is blessed with a lot of waterways that are worth visiting. They include Oguta Lake, Abadaba Lake, and Otamirin River. These serene locations are good for fishing, boating, a waterside picnic or a swim if you dare to swim in nature's untamed pools. By Oguta Lake is a resort, so you could spend the Christmas at the resort and enjoy the lake's view throughout the holidays.
3. See the art and history
Visits to the Mbari Culture and Art Centre and the National Museum Owerri are exciting adventures. The open-air museum at Mbari Culture and Art Centre, is filled with carvings, sculpture, and super creative artworks. On the other hand, the museum showcases the artefacts and household items of the early settlers in Owerri and the history of the Nigerian/Biafra Civil war
4. Enjoy a delicacy
Leisure and merriment are hallmark traits of Owerri this season. And merry making is not complete without food. If you are fortunate, you may get the special Owerri soup and swallow. Otherwise, you could settle for Egusi soup.
You can enjoy these local delicacies at restaurants like Ukwu Mungo. For a tasty suya treat, try Spicey Suya Restaurant; for quality pastries, visit Crunchies; and for hot and mouth-watering sharwama, there's Channel O Restaurant. Also ask the locals for other hidden spots with great tasting meals, and go on a food tour around town.
---
Sign up to the Connect Nigeria daily newsletter
---
5. Go on a city tour
Take a car ride around the city and take in the sights. Such as the astounding architecture of the Maria Assumpta Cathedral, the Owerri Mall (Mall Aladinma), the Owerri Amusement Park, the Dan Anyiam Stadium, Ikemba Ojukwu Convention Centre and Recreational Park, and the architecture of the Imo State Library. You could also glimpse Rochas' statues.
While some places like the state library may not be open on Christmas Day, you will get a chance to see the state decorations around town. People know Owerri for its nightlife so a city tour at night might also be cool especially when the Christmas street lights shine brightest. A city tour might just be what could make Christmas fun this season.
You'd be amazed how many people living in Owerri who haven't ventured out to explore these tourist destinations in their town. Doing any of the above activities beats sitting at home watching same old Christmas movies. 
Featured image source: Hotels NG
---
Did you find this article useful? Contact us via editor@connectnigeria.com