Did You Know?
Helpful Little Articles: 5 Affordable Daycares in Lekki
If you are a new parent or just new in the Lekki district of Lagos, you will probably need the information we are putting out in this edition of "Helpful Little Articles". We will be running down five places you could put your young one in for care while you work or take care of other concerns.
---
Read more about other Helpful Little Articles
---
The school has qualified staff specially trained to manage children. They have a clear understanding of the Montessori curriculum and how to apply it to the children. There is personalized treatment and strict adherence to child management principles. Health is also insured for the children. Curricula and schedules are available on their website.
Address: 19a Kenneth Agbakuru Street, Lekki Phase 1, Lagos, Nigeria
Phone: 09070000150, 08188889012
E-Mail/Web: www. whitelightmontessori.com
Tumble Tots Pre-School
The school began operations in 2005 in Victoria Island before moving to Lekki Phase I and they are presently expanding to other parts of Lekki. They will soon be expanding into primary education. Their curriculum cuts across basic forms of knowledge in "art and craft, social, emotional and personal development, physical development, language and literacy, numeracy to knowledge of our world".
Address: 24 Tosin Adelowo Street, Oba Amusa Estate, Idado, Lekki Lagos
Phone: 0705 567 8635, 0802 369 3871
E-Mail/Web: info@tumbletots.com.ng
The school is located in the heart of Lekki, the pre-school facility offers a safe and controlled environment for young ones to learn and grow. Intellectual, emotional and mental growth are prioritized at this early stage of the child's life.
Address: No 6A Ayo Jagun Street, Off Abike Animashaun Street, Lekki Phase 1, Lagos
Phone: 0818 727 8487, 0813 801 6012
E-Mail/Web: info@thelittletulipng.com, yvonne@thelittletulipng.com, www.thelittletulipng.com
The day care facility is tended to by proven child care professionals and have a well-planned schedule that one can access online. The environment is very conducive and has been in the business of partnering with corporate bodies in opening and managing day care nurseries.
Address: N/A
Phone: 08120796722
E-Mail/Web: babble@thebabylounge.com.ng, https://www.thebabylounge.com.ng
---
Sign up to the Connect Nigeria daily newsletter
---
Rehoboth College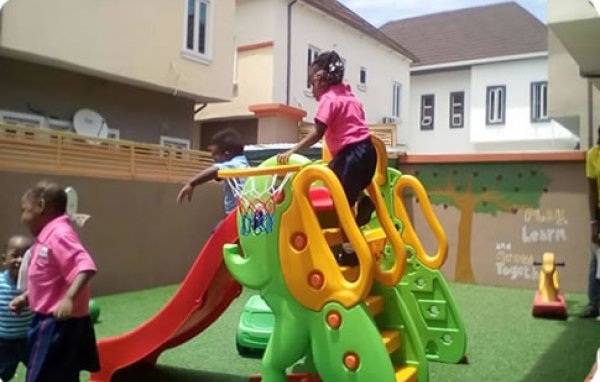 Thhe learning curriculum at Rehoboth College is integrated to enhance the learning experience for the young ones that includes the Nigerian, British and Montessori curricula. The school requires highest standards of service from its staff and that includes high qualifications. What's more? The class ratio is about sixteen pupils to one teacher.
Address: Cresta Villa Court, 10-12 Ologolo Road, Agungi Lekki,Lagos
Phone: 07050895314, 08132329140, 09032551693
E-Mail/Web: info@rehobothchildrenshouse.com, www.rehobothchildrenshouse.com
Featured Image Source: The Payton Insurance Group
---
Got something you want to read about on our platform? Contact us: editor@connectnigeria.com