When choosing a place to visit in Nigeria, Jos city is always on the list. First it is a city on a hill, like 4,062 ft above sea level, which explains the unique weather there. Then it had lots of natural, historical and artistic attractions that makes it a fun place for nature and art lovers to visit. An example is the beautiful street art under the Bridge of Unity (AKA Unity Bridge) along Bukuru road near the old airport in Jos. The spot is so colourful, even the youths are attracted there for roller skating activities.  From the soothing weather to its many attractions, Jos is a tourist's dream destination.
---
Read more about Travel and Tourism
---
Below are some attractions in this city:
1.Jos Wildlife Park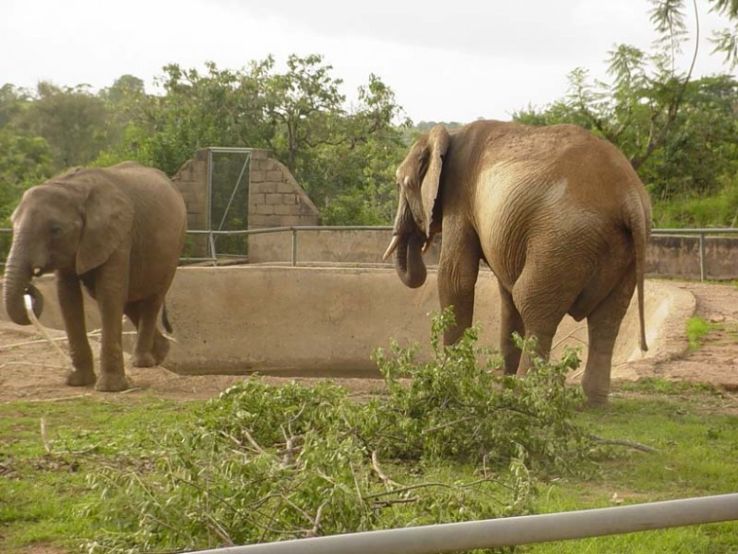 From the entrance, you can see the statue of an elephant and some artwork on the fence and the gate. The park is divided into three segments – the pine forest region, the playground and the zoo. The tall pine trees and cool breeze makes the forest a picturesque location for a lovers picnic or group hangout. While the zoo has marabou stork, monkeys, a turtle, a Nile crocodile, an elephant, lions, horse, ostrich, spotted hyena amongst other animals. And the Playground has some slides and swings for people (not just kids) to have some fun with. There is also a gift shop of indigenous crafts and art to buy as a souvenir and a Cafe to eat and drink something during all your hiking through the park. With trees dotting the place, the wildlife park is a cool place to visit.
2. Jos Museum Complex
Home to some of the best artworks and traditional architectural designs in Nigeria, the Jos Museum is a must-see attraction. It is one of the first Museums erected in the country and holds pre-historic Nigerian artworks like the Nok Terracotta heads and other figurines. Within this complex is the museum for traditional architecture, a museum that shows how precolonial civilization built and designed settlements. There is so much for art , architecture and history lovers to see.  
3. Shere Hills
If you are a hiker or climber, then this tourist spot is right for you. It is challenging to climb and one of the highest and most rugged peaks to climb. Though it is close to the outskirts of Jos city, it still makes a delightful spot for a photo if keeping travel pictures as a souvenir is your thing. If you love adventure and mountain climbing, Shere hills is just the place for you.
---
Sign up to the Connect Nigeria daily newsletter
---
4. Mees Palace Galleria
This place currently has the only cinema in Jos city and it is perfect for non-nature or art lovers to visit. It has a playground, coffee Bar & lounge, arcade centre, events centre and football field. It is a splendid place to hangout and have fun.
Note: Most of the other hills and waterfalls usually associated with Jos are more on the outskirts of the town not in the main Jos City. If you are worried about your safety and want to be sure you are not visiting a 'flash zone' in Plateau state, check your google map or ask the locals when in Jos. 'Flash zones' are isolated places where you can't get help if a crisis occurs. But most of these places are outside Jos city, so you have nothing to fear regarding visiting Jos.
Featured Image Source: EMC3
---
Did you find this article useful? Contact us: editor@connectnigeria.com